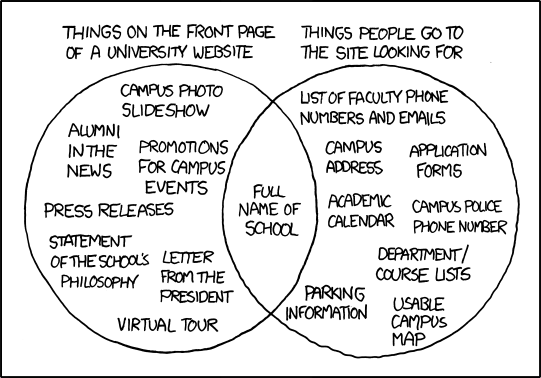 Bilden till vänster började som ett skämt kring skillnaden mellan vad lärosäten brukar lägga på sina hemsidor och vad målgruppen (studenter) helst vill se där (originalbilden ligger på sajten
XKCD
). Sedan dess har bilden skapat mycket diskussion bland webbansvariga på amerikanska universitet.
En artikel i
Inside Higher Ed
,
No laughing Matter
skriver om denna diskussion. Många hemsidor innehåller för mycket marknadsföring som inte går hem hos studenterna. Enligt en webbansvarig:
-
Prospective students are more interested in information about majors or financial aid than administrative rhetoric or photos or "pretty girls studying under trees" — a trope so recurrent that it became a running joke at last year's HighEdWeb Association conference, Greenfield said. "[Prospective students] have been marketed to their entire lives, and they are not looking for that marketing hype," he said. "They're looking for authenticity."
Problemet enligt artikeln är att det finns flera delar av universitetet som vill synas samt att det finns flera målgrupper med olika behov och resultatet är oftast en alldeles för komplicerad hemsida.
- The result can be an unappealingly busy website jam-packed with a lot of links included for the wrong reasons.